Emily
came down to our house this Weekend and we were able to celebrate her
birthday!
She turned
29
! That is so funny because that is how old I am! :) And holding..
Can I tell you a few of my

favorite

things about Emily?
--She is someone who is so easy to talk to..a great listener.
--She is one of the most thoughtful people I know and always remembers

everyones

birthdays.
--A

great baker

..her cookies are world class. Seriously Em..need that cookie recipe.
--She is so

sweet and innocent

- and I think its so cute she cant watch movies with ANY violence in them. I am sure Heavenly Father looks down and smiles at your pure innocence.
--She is very

crafty

! Have you seen
this quilt
she made my Liam?
--She is amazing with all her

nieces

and nephews..she spoils them, loves them and brings back

souvenirs

from her many travels.
--We all

love

her more than she will ever know.
Here are some pictures of her birthday at our house. The cake is first..Ice Cream Cake -- YUM! Can I just say thank you to you Emily one more time for having a birthday..
mmmm
.. I tried to make a 29 out of candles..
didnt
really work out all that well.
Sing with me.."Happy Birthday to you..."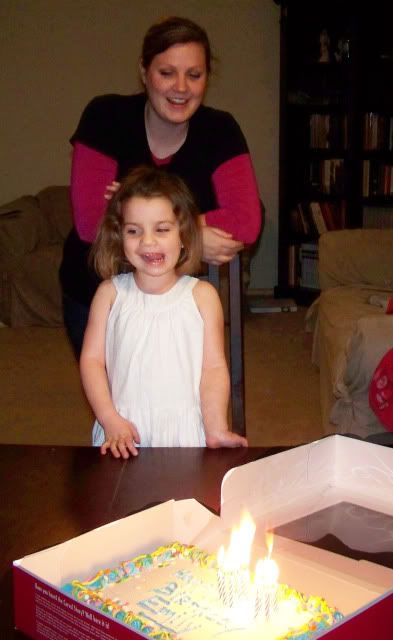 Make a wish..Liam wanted to get a closer look at that cake.
Present time!
Happy Birthday Emily!! We wish you the best year ever!